Small Cities Development Program
The Small Cities Development Program (SCDP) is a competitive grant program that cities and townships (with a population under 50,000) or counties (with a population under 200,000) can apply for through the  Minnesota Department of Employment and Economic Development (DEED). The Small Cities Development Program is funded through the United States Department of Housing and Urban Development (HUD), and activities funded through this program must meet the federal objectives of: Benefiting low to moderate income persons (usually through housing rehabilitation); Eliminating slum & blight conditions (usually through commercial property rehabilitation); Solving an urgent need (such as health or environmental hazards, usually supplementing other funding to update wastewater facilities). Indian tribal governments and larger cities, which can receive direct funding from HUD, are ineligible for this program. 
Once a project is funded, local, licensed and insured contractors are selected to bid and perform the work, whether on a public facility, a home, rental property or commercial building. Rehabilitation activities (excluding public facilities) often include: repair/replacement of roofing, siding, windows and doors; heating systems, plumbing, electrical and roofing.
There are two (2) Small Cities Development Program administrators available for hire to communities interested in applying for funding:
 Lakes & Pines Community Action Council, Inc.
 Central Minnesota Housing Partnership
Residents in the following communities are encouraged to apply to make improvements to their property:
Rehabilitation Loan Program
This is an income-based loan program for homeowners to make basic repairs to their home (roof, siding, windows, doors, heating systems, electrical updates, well, septic). Financing is in the form of a forgivable loan with a fifteen (15) year term at 0% interest. If during the 15 years the home is sold, the title is transferred or the property ceases to be the borrower's principle place of residence, the loan must be paid back. If after 15 years none of those events occur, the loan is forgiven and does not have to be paid back. Single-family homes, duplexes and manufactured housing taxed as real or personal property are eligible for this program.
How do I qualify?
You must own the property & home to be improved
The home must be your principal place of residence
You must be current with your mortgage payment and property taxes
The net value of your assets can not exceed $25,000 (Excludes home furnishings, and one vehicle)
You must carry home owner's insurance on home
You must meet income guidelines. Income limits are based on the size of the household:
| | | | | | | | |
| --- | --- | --- | --- | --- | --- | --- | --- |
| Family Size | 1 person | 2 people | 3 people | 4 people | 5 people | 6 people | 7 people |
| Income limit | $18,000 | $20,600 | $23,200 | $25,600 | $27,900 | $29,900 | $32,000 |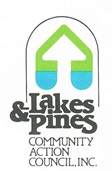 Residents in the counties of: Aitkin, Carlton, Isanti, Kanabec, Mille Lacs, and Pine should contact Lakes and Pines Community Action Council, Inc. to apply. Or download the application below and email it to: lap@lakesandpines.org or mail it to: 1700 Maple Avenue E, Mora, MN 55051 For questions call 320.679.1800.
Residents in Chisago County should contact Chisago County Housing and Redevelopment Authority and Economic Development Authority.
All other counties should contact Minnesota Housing Finance Agency to find a loan provider for their county.
<Provide link to Application>
Applicants please read the documents below
Fair Housing (HUD)
Protect Your Family From Lead In Your Home (EPA)
Renovate Right: Lead Hazard Information for Families, Child Care Providers and Schools (EPA) 
Single Family Housing Repair Loans & Grants Program

What does this program do? 
Also known as the Section 504 Home Repair program, this provides loans to very-low-income homeowners to repair, improve or modernize their homes or grants to elderly very-low-income homeowners to remove health and safety hazards.
Who may apply for this program?
To qualify, you must:
Be the homeowner and occupy the house
Be unable to obtain affordable credit elsewhere
Have a family income below 50 percent of the area median income
For grants, be age 62 or older and not be able to repay a repair loan
What is an eligible area?
Applicants may check the address of their home to determine eligibility.
How may funds be used?
Loans may be used to repair, improve or modernize homes or remove health and safety hazards
Grants must be used to remove health and safety hazards
How much money can I get?
Maximum loan is $20,000
Maximum grant is $7,500
Loans and grants can be combined for up to $27,500 in assistance
What are the terms of the loan or grant?
Loans can be repaid over 20 years
Loan interest rate is fixed at 1%
Full title service is required for loans of $7,500 or more
Grants have a lifetime limit of $7,500
Grants must be repaid if the property is sold in less than 3 years
If applicants can repay part, but not all of the costs, applicants may be offered a loan and grant combination
Is there a deadline to apply? 
Home loans are available year round as long as funding is available
Home loan applications are processed in the order they are received
How long does an application take? 
Approval times depend on funding availability in your area. Talk to a USDA home loan specialist in your area for help with the application
Who can answer questions and how do I get started?
Contact a USDA home loan specialist in your area
What governs this program?
The Housing Act of 1949 as amended, 7 CFR Part 3550
HB-1-3550 - Direct Single Family Housing Loans and Grants Field Office Handbook
Why does USDA Rural Development do this?
Helping people stay in their own home and keep it in good repair helps families and their communities. Homeownership helps families and individuals build savings over time. It strengthens communities and helps many kinds of businesses that support the local economy.
NOTE: Because citations and other information may be subject to change, please always consult the program instructions listed in the section above titled "What Governs this Program?" Applicants may also contact your local office for assistance.